Dehulling (or decortication) is the process of removing the seed hull, it can be applicable to more than just soybeans.
SG-4 soy dehuller is a part of SOY DEHULLER MILL INSTALLATION LSG-4 which
grinds the product to a fraction of the required size
removes the shells from the soybean core
Two pairs of rollers rotate towards each other and crush the soybeans.
On the lateral part of the rollers there is a ridge surface. Due to the different rotation speed, the soybean that fall into the gap between the rollers, crack and break up into several parts.
The dehuller SG-4 consists of the following units:
12 – BODY
13 – BASE
14 – HEX-SHAPED BELT
15 – TENSIONING DEVICE
16 – ELECTRIC MOTOR
17 – SLIDE HANDLE
18 – HANDLES FOR ROLLERS MOVEMENT
19 – PULLER OF FEED ROLLER
20 – PULLER OF DRIVE ROLLER
21 – PULLER OF DRIVEN ROLLER
22 – INTERMEDIATE PULLEY
23 – SAFETY COVER
24 – SAFETY COVER
25 – INLET PIPE
26 – V-BELT DRIVE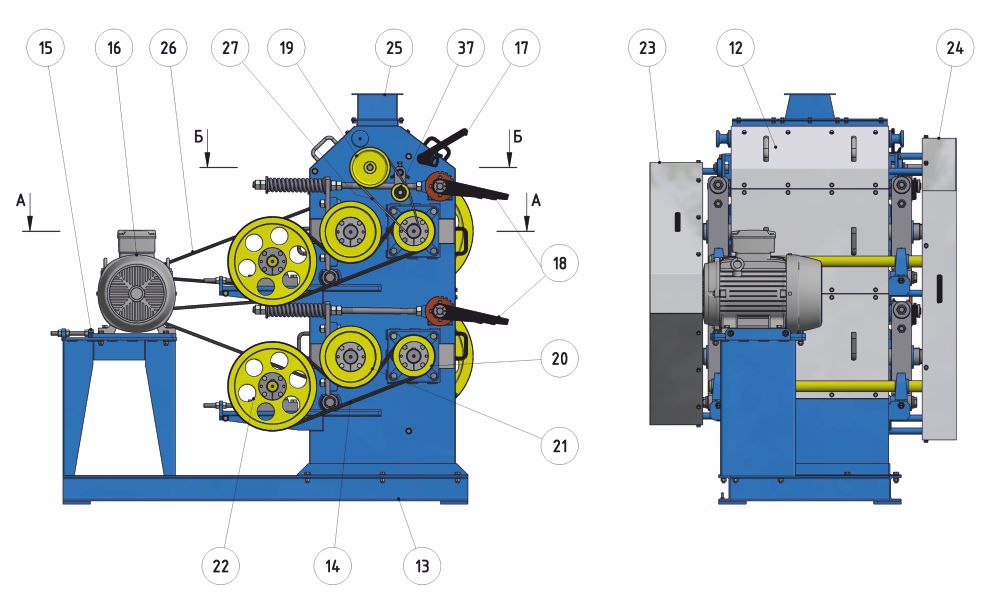 27 – BELT OF FEED ROLLER
28 – DRIVEN PULLEY
29 – TENSIONING BOLT
30 – INTERMEDIATE SHAFT
31 – DRIVE ROLLER
32 – DRIVEN ROLLER
33 – BEARING ASSEMBLY OF DRIVE ROLLER
34 – BEARING ASSEMBLY OF DRIVEN ROLLER
35 – BEARING ASSEMBLY OF INTERMEDIATE ROLLER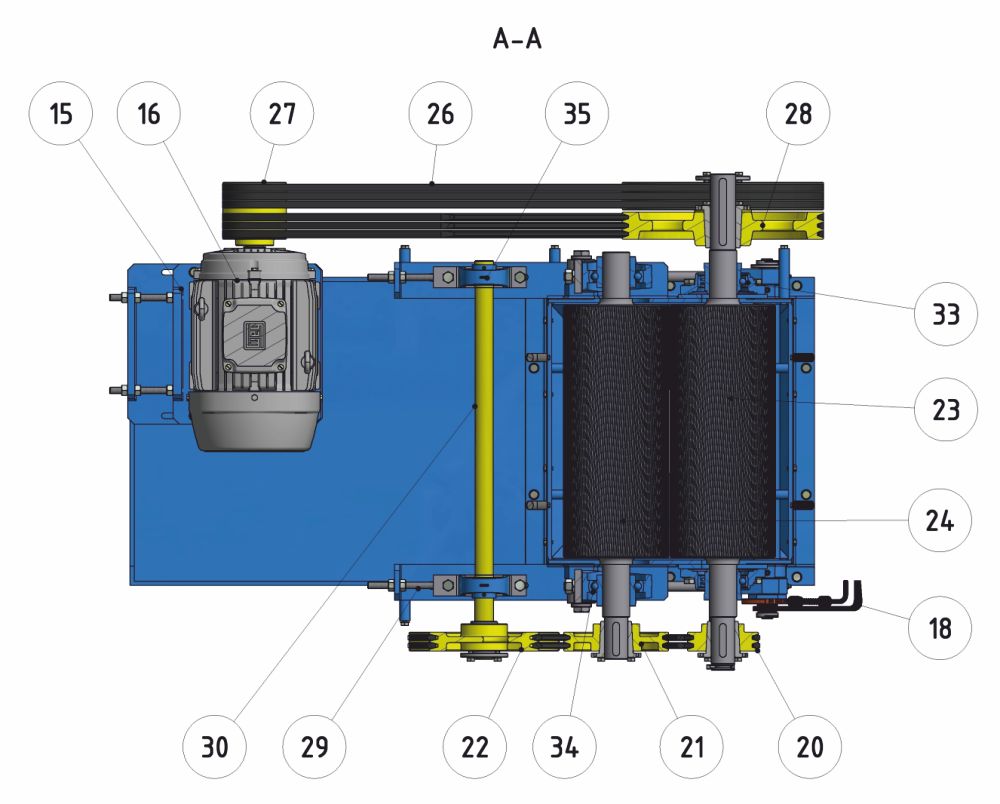 38 – PULLEY OF DRIVE ROLLER
39 – PULLEY OF DRIVEN ROLLER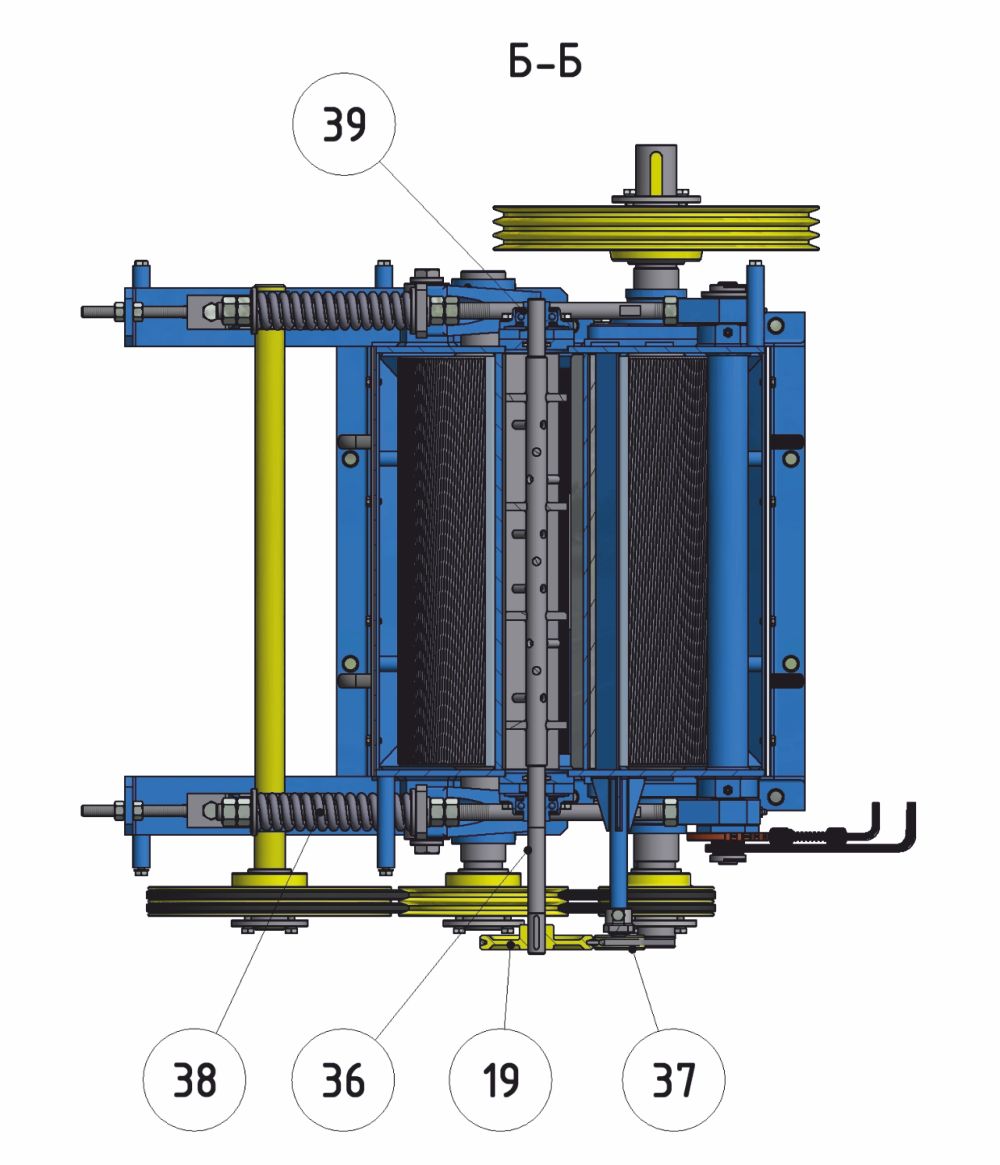 Slide handle 17 controls the amount of the material in the work area.
Handlesforrollersmovement 18 are designed to adjust the roller gap. Size of the gap depends on the degree of grain grinding.
The horizontal position of the handle corresponds to the smallest gap between the rollers.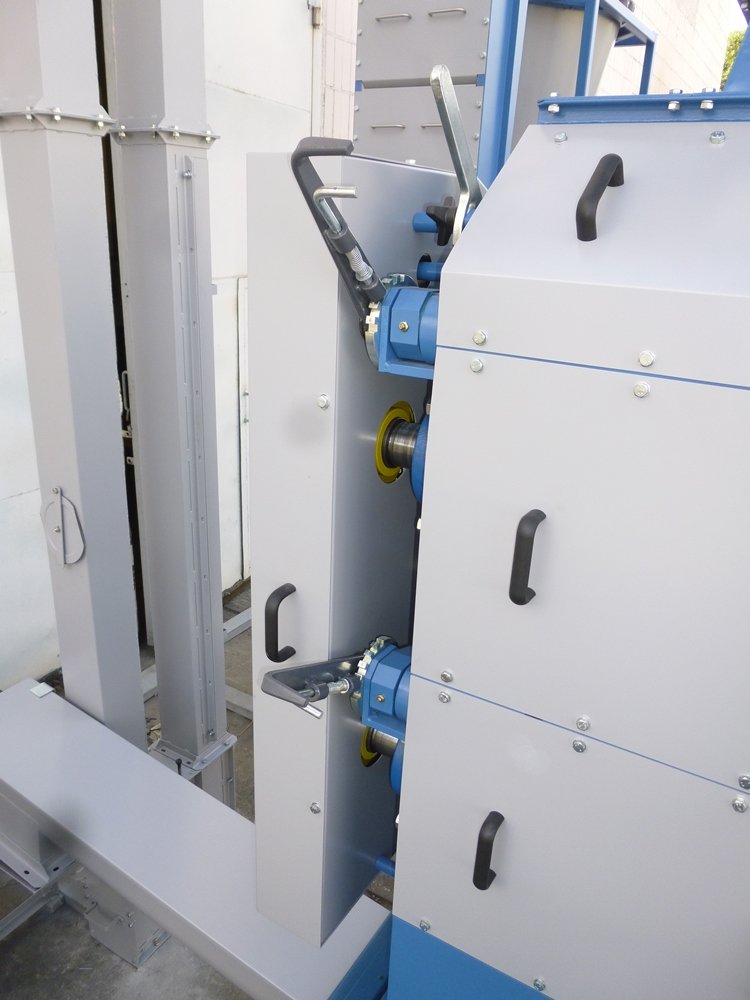 The mixture of soybean kernel and soybean shells obtained in the SG-4 is fed through the transport system to the air separator MA-4, which is an integral element of the SOY DEHULLER MILL INSTALLATION LSG-4.